Rafter Layout with Log Timbers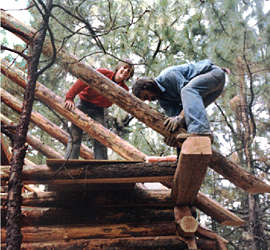 How to Use These Instructions
INTRODUCTION

Using logs in place of dimensional lumber for exposed rafters will add a lot of character to your finished home. But, a log beam is not dimensional lumber. It will always be thicker on one end. That is how trees grow. So, how do you layout precise cuts when the material you are working with is not uniformly dimensional? The following pages will show you how with detailed step by step illustrated instructions.

The method will show you:

1. How to establish a measuring line on non-dimensional material.

2. How to step off a rafter using a steel square.

Authors Note : I maintain the copyright to all that follows and any derivative works, but you may print these pages for your own use.

---
TERMINOLOGY
These instructions use the following terms to refer to the different parts of the steel square.
THE STEEL SQUARE
Drawing #1 shows a steel square.


The long wide part of the square is called the BODY .

The shorter and narrower part is the TONGUE .

The point of their intersection is the HEEL .

There is also an INSIDE EDGE and an OUTSIDE EDGE .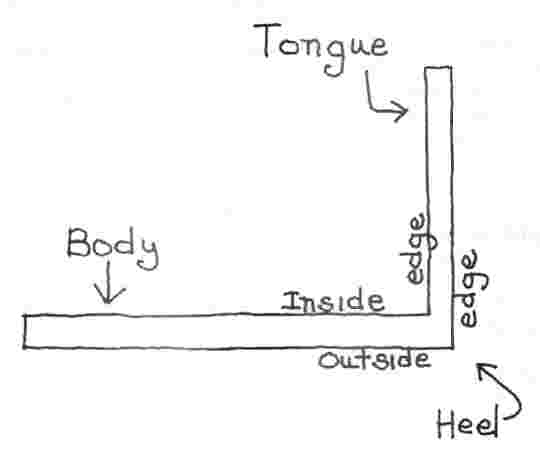 Drawing #1
PARTS OF THE BUILDING STRUCTURE

Drawing #2 shows a set of common raters in place upon the walls of a building. Again, the terms used in these instructions are shown in the illustration.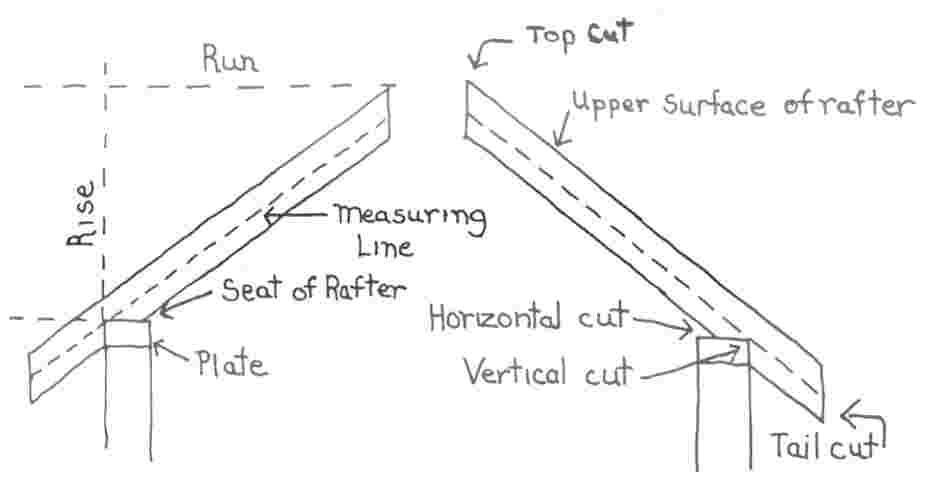 Drawing #2
THE RAFTER MATERIAL AS IT APPEARS ON THE GROUND

Drawing #3 shows a piece of lumber as you will be viewing it after you have stepped off your rafter. Notice the difference in the position of the rafter as it is being layed out on the ground as compared to the rafter as it is in it final place as shown in Drawing #2. The upper surface of the rafter in Drawing #3 is at the bottom of the image.

Drawing #3
TOOLS
To layout rafters using this method you will need the following tools.
| | |
| --- | --- |
| | Steel Square : The numbers should be stamped into the metal and not painted on the surface. |
| | Pencil : Heavy lead that will not break when lines are made on coarse rafter material. Preferable one of those wide flat pencils available at the builders supply. |
| | Tape Measure : Just about any will do. |
| | Chalk Line Reel : Used to snap a straight measuring line or base line. |
The tools listed cover the layout only. When it comes time to cut the rafters it is up to you to decide. I used a precision chain saw.

Home
Sell Property
Homes
Land
Commercial
Search
Resources
Gallery