Washington State Elevations
Adapted with permission from The Johns Hopkins University Applied Physics Laboratory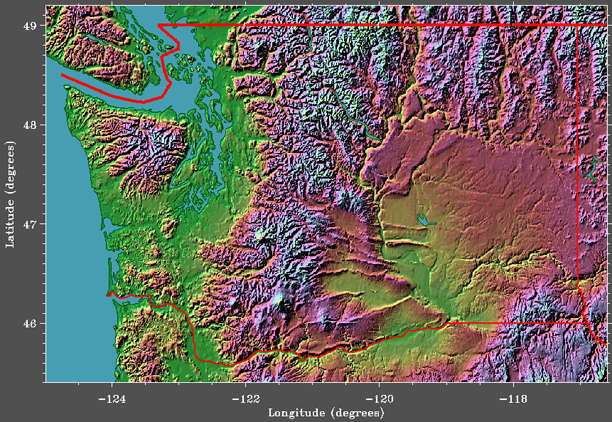 August 23, 1996
V2.2 copyright 1995 Ray Sterner, The Johns Hopkins University Applied Physics Laboratory
http://fermi.jhuapl.edu/states/

ZOOM IN ON KLICKITAT COUNTY

VEGETATION MAP IMAGE
ELEVATION MAP IMAGE WITH COUNTY BOUNDARIES
Elevation

The shaded relief maps are not satellite images. They are created from arrays of elevation data. The elevation data was derived from contour maps elsewhere, some is available from the USGS.

The Map Projection is Cylindrical Equidistant with the shape corrected for mid-latitude of the map.

Lighting is from the northwest.

The elevation data has a horizontal resolution of 1/2 arc minute in both dimensions and a vertical resolution of 20 feet.

The coastlines, rivers, and boundaries are from the CIA database.

County map boundaries are from the USGS Digital Line Graph files.
Text and image adapted by John J. Longfellow for WWW.GETREAL-ESTATE.NET

With permission from the The Johns Hopkins University Applied Physics Laboratory web site
WWW Home page: http://fermi.jhuapl.edu/states/

Home
Sell Property
Homes
Land
Commercial
Search
Resources
Gallery